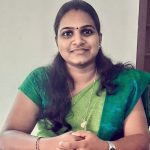 Mrs. REKHA RAJENDRAN
ASSISTANT PROFESSOR
Department of Commerce
Date of Joining : 13th August 2013
EDUCATION SUMMARY
M.Com Finance and Systems
AWARDS AND ACHIEVEMENTS
Presented Paper on International Conference on Humans and Technology: A Holistic and Symbiotic Approach to Sustainable Development Organized by MES College Marampally
Question Bank Setter for the subject International Marketing of IV th semester M.Com
PAPERS/BOOK/CHAPTERS PUBLISHED
 Impact of Covid -19 on Pilgrim Tourism with special reference to Sabarimala Temple
POSITIONS HELD
Coordinator Research Forum,
Criteria III Head
TRAINING PROGRAM ATTENDED
FDP on High Quality Research organized by Silicon City College of Management and Commerce, Bangalore.
NAAC Sponsored National Online Workshop on Teaching, Learning & Research in the Perspective of NAAC RAF organized by Bishop Moore College Mavelikara.
The Best Practices for Online Teaching: Classrooms, Courseware and Tools" organized by The Kerala State Higher Education Council.
Current Trends in Research& Innovation – Research Paper Publications – IPR and Patents – Research Projects & Fundraising" held from 27th – 31st August 2021 conducted by "Institute for Academic Excellence, Hyderabad.
National Webinar on Research Report Writing organized by Research Department of Commerce and Management Studies PSMO College.

Facilities

Image Gallery