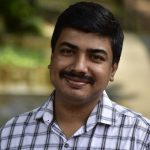 Mr. JITHESH K S
ASSISTANT PROFESSOR
Department of Business Administration
Date of Join : 05/10/2005.
EDUCATION SUMMARY
Post-Graduation in Commerce (M.Com Finance)
Graduation in Commerce
Diploma in Computer Application
EMPLOYMENT HISTORY
Assistant Professor In MES College Erumely–Since 2005 Onwards.
Worked As Customer Relation Officer In Travancore Pharma.
Former Trainer In VIAS Civil Cervice Accademy.
AWARDS AND ACHIEVEMENTS
Certificate of Appreciation for Best NSS Programme Officer Of MG University.
Master Trainer for Electrol Literacy Clubs Under Election Department
PAPERS / BOOK / CHAPTERS PUBLISHED
Growth of Regional Rural Banks (RRB) In India.at National Conference Held At NSS College Rajakumari, Idukki.
.
POSITIONS HELD
Co-ordinator -Unnath Bharath Abhiyan
Discipline committe joint coordinator.
Co-ordinator –Center for Skill and Entrepreneurship Developmemt
TRAINING PROGRAM ATTENDED
Two Days Faculty Development Programme on "Academic Leadership & Innovative Methods in Teaching"10&11th January 2020.
Hands on Training on LMS Moodle Conducted by Kerala State Higher education Council from 11 to 17 May 2022.

Facilities