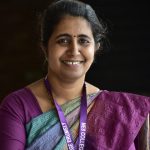 Mrs. ANUMOL JOSEPH
HOD, ASSOCIATE PROFESSOR
Department of Business Administration
Date Of Joining: 10/07/2002.
EDUCATION SUMMARY:
Post Graduation in Business Administration (MBA)
Net (Qualified)
Post Graduation in Commerce (M.Com Finance)
EMPLOYMENT HISTORY
Joined In The Department Of Business Administration On  10/07/2002
POSITIONS HELD
Head of the Department since 2005
TRAINING PROGRAM ATTENDED
Hands On Training On LMS Moodle Conducted By Kerala State Higher Education Council From 11 To 17 May 2022.
Enriching The Learning Experience Through Experiential Learning Conducted By AICTE ATAL Academy From 12/07/2021 To 16/07/2021.
Faculty Development Programme On Outcome Based Education  Organised by MES College Erumely In Association With Kerala State Higher Education Council
Faculty Development Programme In Moodle –LMS in Association With Amal Jyothi College Of Engineering.
AREAS OF INTEREST (ACADEMIC)
Finance, Marketing, Human Resource Management.

Facilities