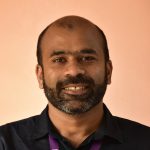 MR.SABJAN YOOSEF
ASSISTANT PROFESSOR
Department of Computer Science
Date of Joining : 26-10-2018
EDUCATION SUMMARY
MSc. in Computer Science from University of Calicut in 2004
BSc. in Electronics Science from University of Calicut in 2001
EMPLOYMENT HISTORY
Assistant Professor in M.E.S College Erumely since September 2018
Lecturer in University of Calicut, Kerala from July 2007 – June 2009
Post Graduate Teacher in Al Manar Senior Secondary School, Erattupetta from July2005 to June2007
AWARDS AND ACHIEVEMENTS
Special Appreciation in the academic year 2018 -2019 by MES College Erumely
POSITIONS HELD
Assistant Professor since September 2018
CTANO of NCC since October 2022
Admission Nodal Officer since June 2022
NIRF Nodal Officer since June 2019
ARIIA Nodal Officer since June 2020
Discipline Committee Member in the academic year 2022 -2023
College Staff Council Member in the academic year 2022 -2023
NAAC Criterion II Head Since December 2019
Director In charge of Physical Education Since September 2018
Various Programs Coordinator Since September 2018
Class Tutor
Mentor
Placement Cell Coordinator from June 2021 to December 2021
Attendance Coordinator from June 2020 to December 2021
Director IT Cell from August 2019 March 2022
Program coordinator for intercollegiate soccer fest.
Program coordinator for intercollegiate college fest.
Coordinator for State level Job Fair.
Program coordinator for Adventure Sports Club
TRAINING PROGRAM ATTENDED
NAAC sponsored two day virtual national conference on " Curriculum Designing and Transactions under the proposed UGC Curriculum Frame Work" organized by IQAC of Nirmala college Muvattupuzha in collaboration with state level quality assurance cell on 28th & 29th July 2022
National Seminar on "Teaching learning and Evaluation "organized by Mar Augstthinose College Ramapurum from 28th October 2021 to 29th October 2021.
Five Day Training Program In Computer Vision Application Using Opencv organized by MES College Erumely from 27th July 2021 to 31st July 2021
Two Day Workshop on Outcome Based Education by Standing Committee for MES Self Financing and Parallel Colleges In Association With Kerala State Higher Education Council from 5th March 2021 to 6th March 2021.
One week FDP on " Advanced Training in ICT-Enabled Online Teaching Tools" organized by UGC-MHRD-STRIDE, MG University Kottayam from 6th October 2020 to 16th October 2020.
FDP on "Moodle – Learning Management System" organized by IQAC of MES College Erumely from 3rd September 2020 to 11th September 2020.
Three Day Online Workshop on "Android Application Integration With Firebase & Google Appscript" Conducted By Faculty Of Technology, RK University Rajkot, Gujarat , from 11th March 2021 to 13th March 2021.
Attended National Educational Summit 2019 at Farook College on 31st July 2019
Attended number of International/ National webinars.
MEMBERSHIP IN ANY TECHNICAL SOCIETY
Member of Computer Society of India (CSI). Membership Number 708122007
Vidwan (Expert Database & National Researcher's Network) ID 284845
AREAS OF INTEREST (ACADEMIC)
Interested papers are C++, Data Base Management System, Networking, Microprocessor, Software Engineering and E-Commerce

Facilities

Image Gallery