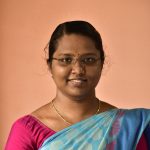 Ms.Tintu Sebastian
Assistant Professor
Department of English
Date of Joining : 4/1/2021
EDUCATION SUMMARY
EMPLOYMENT HISTORY
Working as an Assistant Professor (on contract) in MES college Erumely ( January 2021-
Worked as a Guest Lecturer (DD) in SVRNSS College vazhoor (2019-2020).
Worked as a Lecturer in St.Antony's Colleges, Kanjirappally and Peerumade (2018- 2019).
AWARDS AND ACHIEVEMENTS
Cleared KTET (Kerala Teachers Eligibility Test Category III) June 2018
Top scorer of 2011-2014 BA English batch in SVRNSS College Vazhoor.
Worked as an internal mentor of SSP in SVRNSS College Vazhoor.
Worked as a career and skill developing trainer in EYES programme.
Completed Training of Trainers Programme in Communicative English and Basic IT Skills conducted by ASAP.
PAPERS/BOOK/CHAPTERS PUBLISHED
Published an article on Dalith literature in an International Multilingual Journal (ISSN:2582-8002)
Published an article on Computational Linguistics ( ISBN- 978-93-91467-79-1) in Upanayan Publications.
Presented a paper on Computational Linguistics in a National Webinar conducted by Al-Azhar college Todupuzha.

Achievements

Activities

Facilities

Image Gallery