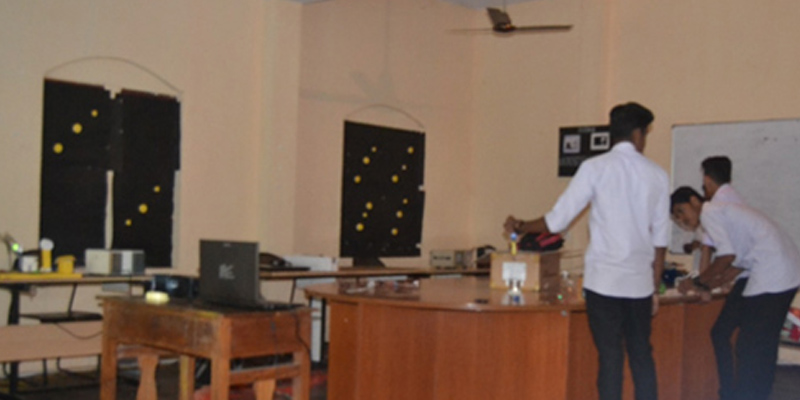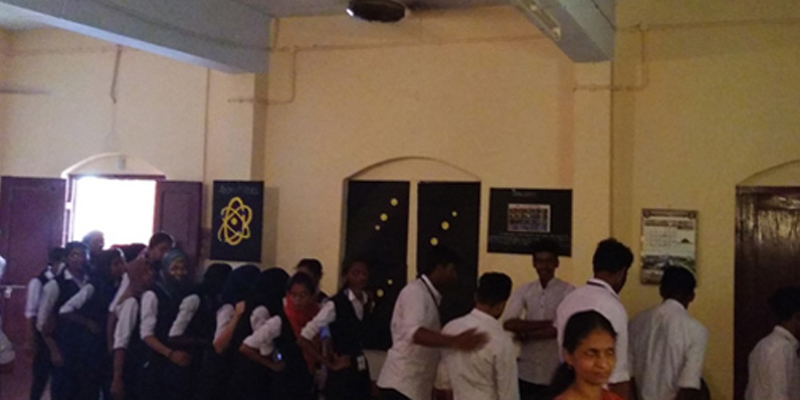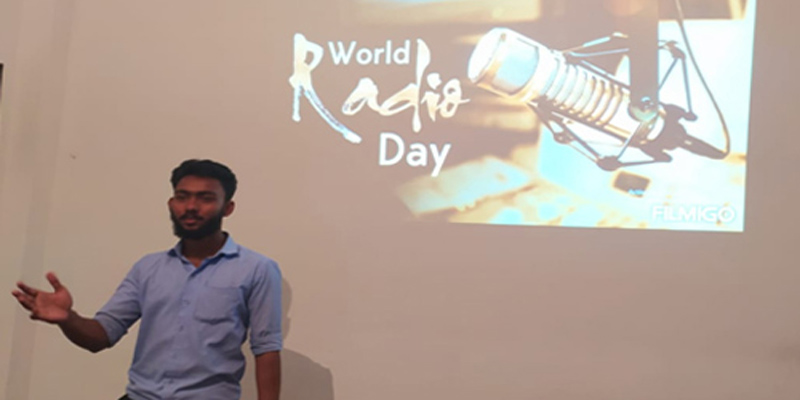 National Science day Celebrations
The Electronics  Association act as a platform for students to develop soft skills and exhibit their talents in student activities.This year also, The association organised National science day celebrations on 11th&12th Feb.2019.The programme includes various science related activities like seminars,degree level quiz competitions and a project exhibition.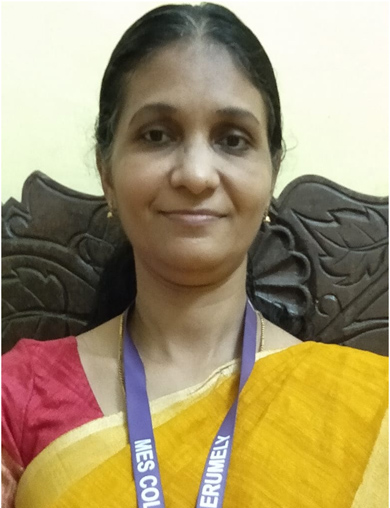 Mrs. JISHA MOL C. K
HEAD OF THE DEPARTMENT

Facilities
Industrial Visit
With an aim to go beyond academics ,the department arranged a visit to Vikram Sarabhai Space Center on 9th October 2019,Wednesday.The visiting team comprised of 42 students along with 5 faculty members.We visited the space museum and witnessed the launching of sounding rocket.It was indeed a wonderful and unforgettable experience for us to witness an object leave the earth for outer space.This visit could be a lot more inspiring for students to join ISRO.We feel proud about the achievements of our scientists and certainly it was one of the life time experience for us.
Gandhi Global Solar Yatra
Gandhi Global Solar Yatra is planned by IIT Mumbai in association with Unnath Bharath Abhiyan to promote self-sufficiency in energy for sustainability.This Yatra mainly aims to spreading the message of nonviolence towards the environment and bring awareness on the severity of climate change and lack of energy access to billions. This year our college also was a partner of this Solar Yatra.As the part of this program the staffmembers of Electronics department participated the one month online training programme arranged by IIT Mumbai . 125 solar ambassidors from our college assembled their solar study lamps on october 19th October 2019, with the assistance of these trained faculty members.The program concluded with a pledge of non-violence as instructed by IIT Mumbai.
Certificates issued by IIT Mumbai were distributed to these 125 solar ambassidors.
Seminar on NAAC awareness and workshop on microwaves
The dept. organised a seminar and a workshop in associate with IQAC.Both of the sessions were handled by Dr.Rohith K Raj ,alumnus of this dept.He is a Phd scholar in microwave antennas and received young scientist award for his achievements and was invited by Dr.A.P.JAbdulkalam to the RashtrapathiBhavan.Now he is working as HOD of the dept.of Electronics ,Govt.collegeMananthavaadi.
Word Radio Day Celebrations
Celebration of World Radio Day was conducted on 13th Feb 2020 with a variety of programmes such as an exhibition of antique radios,working models of radio transmitter and receiver,still model of a radio station etc.The valve radio is the main attraction of the exhibition.The program also includes a video presentation of the theme 'radio and diversity'.A number of electronic gaming circuits are also arranged to entertain the students from various departments in our college. The exhibition and presentation offered the students of other departments an opportunity to understand the electronics and technology behind radio.
Webinar
An international webinar on Robotics and Robot Operating systems was conducted on 13th June 2020.Mr.Melvin P Manuel,Research Scholar and Graduate Teaching Assistant , Detroit University ,USA was the resource person.Around 1200 people from various countries like U.S ,U.K.Philippenes and Morocco attended the webinar.